Registered Nurse, Day Shift
Lower Umpqua Hospital District
Full Time - Work at Location Address
Added on: 10/12/2023
Description
Registered Nurse, Day Shift
Employment type: Full-Time
Department: Acute Care
Location: Hospital
Reedsport, OR 97467
JOB SUMMARY:
A Registered Nurse provides through the nursing process, assessment, delivery of care, and information and assistance to patients admitted at Lower Umpqua Hospital.
Demonstrates compassion, respect, and caring attitude while working within the scope of a registered nurse, to provide care to patients and assistance to their families and visitors. Works collaborating with all other healthcare team members toward the best outcomes for the patient and the organization. All job duties are performed in a manner that demonstrates Lower Umpqua Hospital's "Partners in Care" philosophy.
ESSENTIAL DUTIES:
Receive adequate report from off-going nurse.
Utilizes the nursing process to deliver holistic patient-focused care: Assessment, Diagnosis, Outcomes/ Planning, Implementation, and Evaluation.
Makes pertinent observations of patient and responds appropriately in a timely manner to rapid changes in patient condition. Contacts physician with changes in patient status.
Provides primary care of patients with CNA assistance, as necessary.
Assists patients with mobilization, including turning, positioning, transferring, and ambulation.
Plans workload in order to provide care for a group of patients in an organized manner.
Delegates to and supervises other members of the nursing team in providing patient care.
Coordinates the activities of other departments in the implementation of patient care.
Utilizes strategies, including teaching plans and referrals to other health team members, to meet patient and family learning needs.
Seeks opportunities to learn and perform unfamiliar procedures, using appropriate resources.
Maintains ability to carry out technical procedures independently, effectively, and safely.
Effectively organizes and completes patient care assignment in the allotted time.
Deals effectively with a reasonable amount of interruption or work routine.
Initiates and/or participates in patient care conferences, unit meetings, in-services, and nursing process groups on an ongoing basis.
Effectively participates in the evaluation of standards of care, identifying unsafe patient care practices, and assuming responsibility for intervention.
Participates effectively in evaluation and revision of nursing policies, procedures, and equipment needed for patient care.
Responsible for maintaining competency in nursing skills utilized on patient care unit.
Makes rounds on all patients.
Is responsible for dispensing medications following correct procedures and carrying out treatments.
Maintains accurate and concise documentation.
Reviews and updates care plans.
Assists in emergency procedures.
Assists with patient care and answering lights as needed.
Assists in supporting volunteers.
Ability to interpret and respond to telemetry.
Assists as needed in the ER and ICU.
Clerical duties such as mechanical copying, filing, answering phones, etc.
Cleaning and disinfecting surfaces/equipment.
Nurse relief for lunches and breaks.
Assist with chart review
Continuing education.
QUALIFICATION REQUIREMENTS:
Education and License:
Graduated from an Approved Registered Nursing program.
Current Registered Nurse Licensure in the State of Oregon, required
Certifications
Basic Life Support (BLS)
Experience:
Additional Qualifications:
Is able in the State of Oregon to function at the RN level in acute intermediate, long-term and ambulatory care facility
Those skills that involve specific physical performance are as follows:
VISUAL: Able to ambulate safely. Able to work in limited lighted areas on night shifts. Able to accurately read small letters and digits.
HEARING: Assessment (i.e., auscultation of body parts and sounds), ability to audibly discern mechanical dysfunction of monitors and other patient equipment (i.e., alarms, parameter guides). Ability to gain subjective information regarding patient status.
SPEECH: Assessment (i.e., capable of asking pertinent questions regarding patient status). Teaching of patient of the family, all professional communication, professional behavior, able to converse by telephone to appropriate personnel, MD, or family. Must be able to give adequate nursing report to oncoming shift.
MENTAL: Able to comprehend job description and perform in professional manner. Emotional stability to:
Properly assess and manage nursing role, including assessment of patient care.
Maintain an awareness level to carry out technical skills, teaching, communicating, and profession behaviors.
Able to foster a team approach.
Able to problem-solve effectively.
Understand the effect of actions and behavior on others, especially under stress.
Conveys an understanding of the need for a positive, caring attitude with interaction of clients, family, MD's, visitors, volunteers, etc.
WORK ENVIRONMENT:
Works indoors in an air-conditioned environment. Administers potentially harmful medications. Frequent contact with potentially contaminated body fluids.
PHYSICAL DEMANDS:
Frequent use of computer and phone, and other standard office machines. Must be able to stand, sit, stoop, twist, kneel, reach, push, pull using proper body mechanics and move/lift varying amounts of weight to a maximum of 50 lbs. Uses protective equipment such as Hoyer lift, gait belt, gloves, gowns, masks, and proper needle disposition tools
This is a Full-Time position that is eligible for benefits
Meet the Owner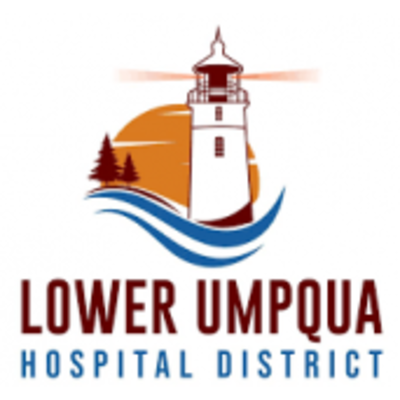 LUH
Owner
In the early 1950's, a non-profit corporation called the Lower Umpqua Association was formed to deal with the need for local medical care in coastal Douglas County.In 1954, a Lower Umpqua Area Hospital District was formed that included the Reedsport, Winchester Bay, Gardiner and Scottsburg areas. Donations from the community and three major lumber companies, as well as tax levies, formed the ... more ancial base with which to start a new hospital. With the help of a Hill-Burton grant, a federal grant to aid in building rural area hospitals, the hospital was built in the early 1960s.The hospital, built in the form of a modified Maltese cross, opened February 3, 1964 with eighteen acute care beds and twenty-two nursing home beds. Equipment to furnish the rooms and various departments was donated by civic and fraternal groups and individuals in the community. Dr. Rickard W. McLean was the first Chief of Staff, and an elected five-member Board of Directors administered the affairs of the hospital under the auspices of the Lower Umpqua Hospital District.The hospital was managed by independent hospital administrators until 1977 when A.E. Brim and Associates, Inc., hospital management consultants, were hired to manage the hospital. less